Susan Qu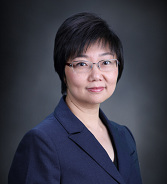 Dr. Qu is the Genzyme External Manufacturing Integrated Risk Manager, responsible for establishing an integrated risk management program (based on ICH Q9) to support the CMO network within Genzyme Industrial Operations.  Her responsibilities include establishing risk management program and developing novel risk management tools to identify, evaluate, document, and communicate risks that have quality, contractual, financial, legal, supply chain, HS&E, and/or regulatory implications.
Prior to the risk manager role, Dr. Qu was a Quality Intelligence and Strategy Principal Project Manager in Genzyme.  She specializes in the Pharmaceutical/Biotech Quality System creation, coordination, and lifecycle Management, especially in the supplier and subcontractor management area.  Dr. Qu manages multi-functional global teams to streamline and harmonize business processes for continued improvement.  Dr. Qu is also an expert in formulation development and assay design and development for therapeutic biomolecules (proteins, enzymes, viral vectors, etc.), including biochemical, biophysical, and cell-based assays.  
Dr. Qu graduated from Emory University with a Ph.D. in the field of Biomolecular Analytical Chemistry.  Dr. Qu also obtained her MBA degree from Babson College.