Bo Ying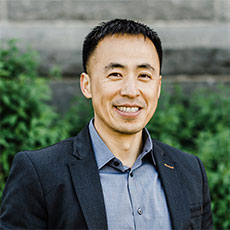 Bo Ying, PhD – Director, Formulation, Trucode Gene Repair Inc.
Dr. Ying has more than 10 years of experience in nucleotide therapeutics and he has served as a leader at Dicerna Pharmaceuticals and Moderna Therapeutics with focus on formulation research and drug delivery in oncology and a variety of liver diseases. Currently, Dr. Ying is the director in formulation research at Trucode Gene Repair, a biotech company trying to cure disorders induced by gene mutation.
Prior to joining Trucode Gene Repair, Dr. Ying oversaw oncology formulation research at Moderna Therapeutics as well as the collaboration between Moderna and AstraZeneca. His work has led to the nomination of "N1GL" as the next-gen lead for mRNA delivery in cancer immunotherapy. At Dicerna Pharmaceuticals, Dr. Ying has invented EnCore technology for specific delivery of siRNA to tumors, developed scale up process for GMP manufacture and successfully transferred the technology to CMO in Europe. The drug product (DRC-MYC) based on Dr. Ying's research has completed phase I evaluation in liver cancer patients and demonstrated clinical proof of concept with specific target knock-down in patients. At both positions, Dr. Ying has been granted several patents in drug delivery technology.
Dr. Ying received his bachelor's degree in life sciences and master's degree in neuroscience from Fudan University, Shanghai, China, and a Ph.D. degree in pharmaceutical sciences from Northeastern University.