Ruiyi Dong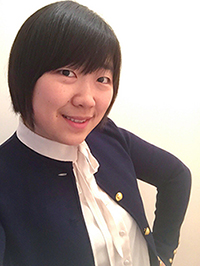 Ruiyi Dong, Associate Scientist II, Biogen, Cambridge
Ruiyi has several years of experiences in the field of life sciences, including mass spectrometry-based protein analysis, FACS based PBMCs analysis, pharmacokinetics study, cell culture, molecular biology, and medicinal chemistry, etc. 
Ruiyi received her MS in Pharmaceutical Sciences from Northeastern University, US, and got her BS in Applied Chemistry from Shenyang Pharmaceutical University, China. After graduation, Ruiyi joined a mass spectrometry-based protein characterization group at Biogen. During her master program, she did a one-year coop in a proteomics lab and an immuno oncology lab at Sanofi. Before that, she did a one-year internship in a biomolecular lab at Yan'an Hospital Affiliated to Kunming Medical University.
Since 2015, Ruiyi has served as an active member of CABA and has been taking care of propaganda, photography, registration, and website managing, etc.